The Klondike Gold Rush: How the Yukon Changed Canada
History will be incomplete without knowing about Yukon. The Klondike Gold Rush is the one of events in the past of Canada 19th century. This area was founded in 1896. Because of how it affected Canadian political systems, community dynamics, and commercial activity, the occurrence holds weight. The area became an attraction for people looking for a glittering future. The discovery of rich gold veins drew the attention of residents. The most visited road was the Chilkoot Trail. The True North was forever altered.
The Valuable Veins of Ontario: Major Gold Discoveries of the Early 1900s
The Porcupine Gold Rush: In the year 1909 gold was discovered. So many people travelled towards the future.
Kirkland Lake's Golden Mile: Lake becomes another area of discovery. Give birth to the Kirkland Minerals and Teck-Hughes mines along the "Golden Mile."
Timmins: The City with a Heart of Gold: The Hollinger was Canada's largest gold mine near Timmins. It was producing the maximum amount of gold during its peak time. The 20th century was the time of Ontario's mining industry establishment.
Prices throughout history:
There are a lot of fluctuations in the price of gold over time: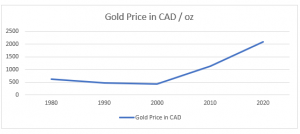 The Canadian Treasury: RCM
The Royal Canadian Mint is a government-owned entity that operates with the Department of Finance Canada. The heaviest coin ever made, weighing 100 kg, was produced in 2007. The coin was a 99.999% pure gold bullion coin with a legal tender value of $1 million. One of their hallmark coins, the Maple Leaf coin, is a top seller.
Modern Mining in the Great White North: Canada's Enduring Ties to Gold
The whole mining industry has contributed greatly to Canada's economic strength. In 2022, Canada's gold production is estimated at 220 metric tons. It contributes $1,643,408 million to the GDP.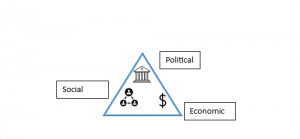 Canadian Shield in Ontario, Quebec, Yukon, and Northwest Territories are Some promising areas for exploration. The Canadian mining industry plays a pivotal role in the low-carbon economy. Owners of mining companies should understand and implement the public policies and regulations that govern their activities. Presently in Sept 2023 price of gold is 2639.70 CAD/oz. The gold business in Canada has a notable presence not only inside domestic boundaries but also on the international platform. Gold is not only metal; it has been a sparkling part of humanity from history till today. Canada plays a big part in the gold market around the world.
What's your reaction?
0
COOL
0
WTF
0
LOVE
0
LOL